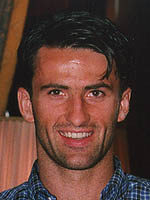 Christian Panucci
---
Before joining real madrid in 1997/98, Panucci was in AC Milan
square about 4 years.
He is considered one of the most reliable and sure tackling
left/right-backs in Italian football. He has won 2 League championships,
1 European-South American Cup, 2 European Championship Cup
1 European Supercup and 2 European under 21.