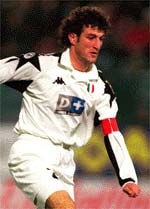 CIRO FERRARA
---
An expert defender, he is one of Italy's most important players. He
comes from Naples, where he made his debut at the tender age of
eighteen against Juventus in 1985. After 10 years spent with the
Partenopean team he moved to Turin where he became a
defensive lynch-pin and the team's main leader during games.
Since he joined Juventus a huge number of clubs have been
interested in this player who is so strong that he is considered
one of the fixtures of the national team. In his career he has won 5
League Championships, 1 Uefa Champions League, 1
European-South American Cup, 1 European Super Cup, 2 Italian
Cups, 3 League Super Cups.