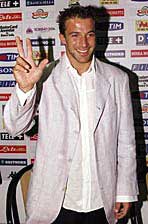 ALESSANDRO DEL PIERO
---
Del Piero's career started in Padova's Youth teams. He made his
debut in Serie B with Padova's first team before joining Juventus in
1993. In Turin he becomes known as one of the very best players
in Italian football, showing craft and ability in a sport in danger of
only recognizing power and strength.
He soon becomes acknowledged as the leader of the group, following
Roberto Baggio and Gianluca Vialli in terms of notority. He has won 3
League Championships, 1 Uefa Champions League, 1European-South
American Cup, 1 European Super Cup, 1 Italian Cup and 2 League
Super Cups.