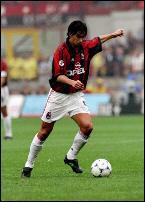 DEMETRIO ALBERTINI
---
A vital member of both milan and the national team
who has extraordinary tactical skill.
He is good both in defence and as a stricker and is
famed for his excellent long -distance shots.
He miss the penalty kick in the world cup 98 quality
final is the biggest mistake in his football life.